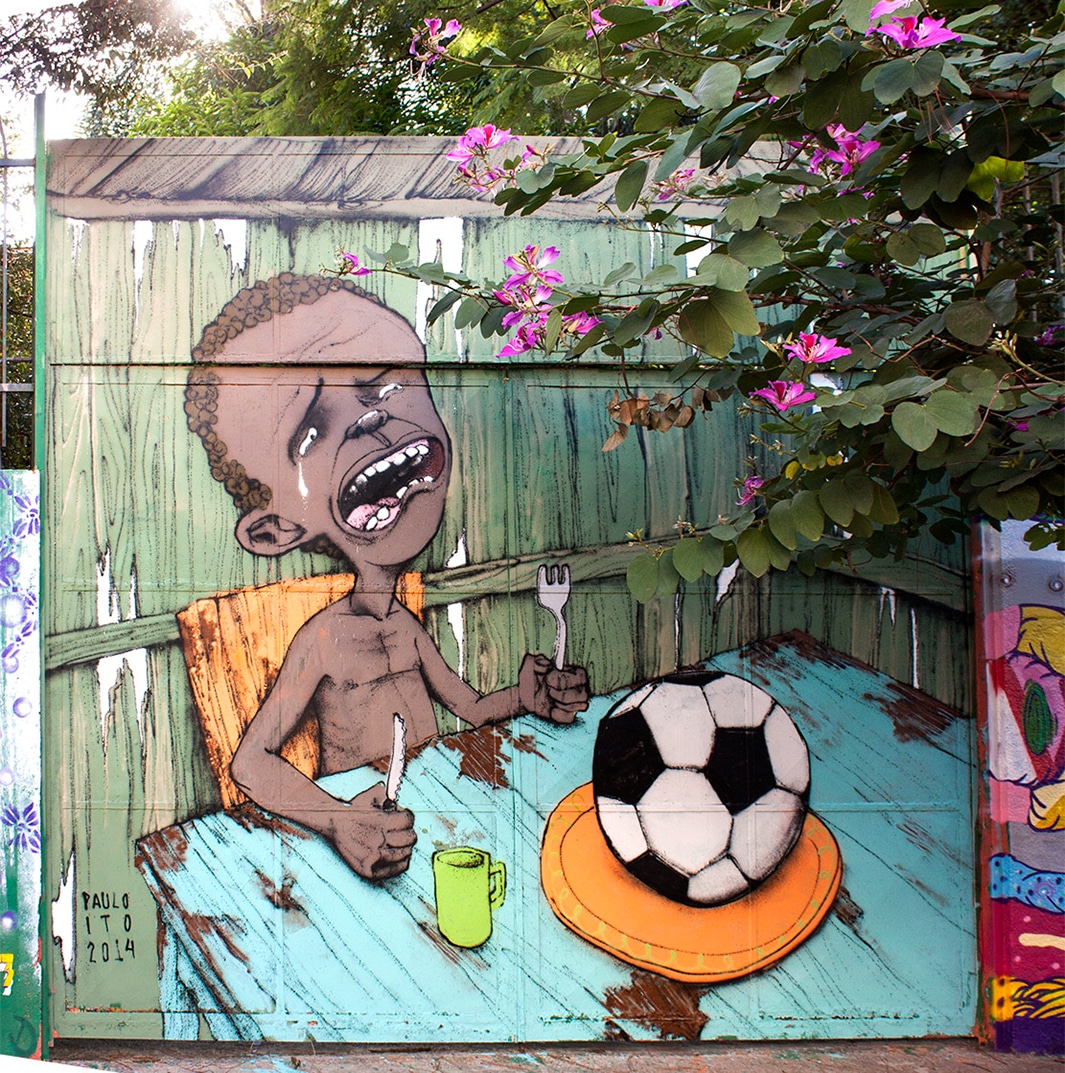 Street Art that goes around the world
Brazil loves football. No matter how little you may know about the sport, you have to know that much. Brazil has won the World Cup more than any other country and is the only one that has qualified for every World Cup competition. Some say the love for football binds the country together. It is an equalizer: anybody can play, regardless of income and location. Maybe there is some correlation between that idea and the street art that has come to represent the country as the World Cup approaches.
They may live in "o país de futebol" but not all Brazilians are excited for the World Cup. People are protesting as money meant for transportation, health care, and education has been redirected to stadium construction across the country.
Artist, Paulo Ito, illustrated the country's discontent in this viral image. He told Slate.com's Jeremy Stahl
"The truth is there is so much wrong in Brazil that it is difficult to know where to start," he explained via Facebook chat. "I didn't mean [to say] nobody is doing anything against poverty," he said of the mural. "But we need to show the world or ourselves that the situation is still not good."
I thought it was interesting that he chose to paint this at a school in a middle class area instead of the stadium that would open the World Cup as he had originally intended. He also said that he avoids painting about poverty in poverty-stricken areas as they already live through the experience. It feels like a message to Brazilians that they need to work on this together.
While Brazil may not have chosen Ito's mural to represent itself to the world, they may prefer it to the cliches of samba and carnivale on display in the official World Cup 2014 song, "We are one", starring Pit Bull and Jennifer Lopez.
Paulo Ito said "People think they are representing Brazil because they do something very tropical, with some Indians. … but that's not what we are."
Instead of emphasizing "we are one world that loves football" street artists Otavio and Gustavo Pandolfo, aka "Os Gemeos", celebrate how different Brazilians can be. As the Brazilian soccer team flies around Brazil, they will be surrounded by a giant mural meant to depict "the Brazilian population with all its varied and colorful ethnicity." It suggests we are different, but we are strong when we are together.
During my walkabouts through the streets of Rio, I experienced that the streets are paved with art…It was never about selecting someone because they were famous and in fact, we avoided all the things you might see on the Brazilian tourist board website (ie Samba, Carnival, Copacabana, toucans etc). Instead we were looking for a partner who shares the same design aesthetic as Coca-Cola, described best as bold, simple, iconic. We found that in Speto and together built a visual identity system that is authentically Brazilian but tells a story of togetherness, optimism, with the underlying connection of football.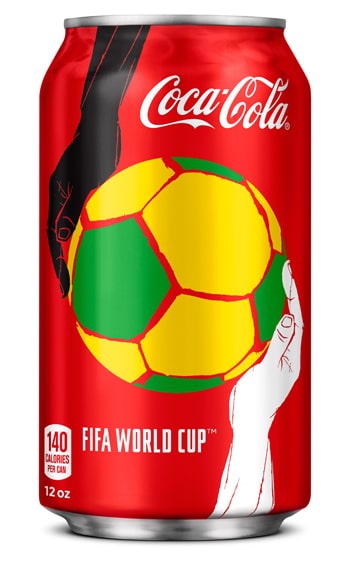 People have groused over the FIFA World Cup logo, saying it looks like a facepalm and wondering why there were no graphic designers on the team that chose it. I would agree that it looks unwieldy. But maybe the designers did not want it to look computer generated, maybe they wanted a more hand-drawn effect.It is not going to be mistaken for any work by Paulo Ito, Os Gemeos, or Speto but I wonder if Brazilian street art had an influence. The football players are not the only ones traveling throughout the world and representing Brazilian talent.